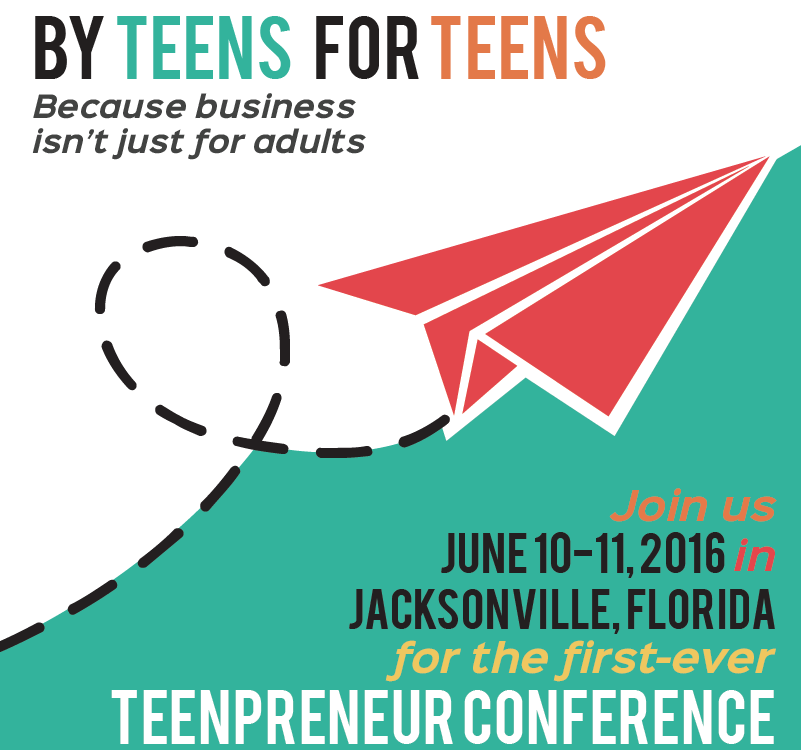 We're excited to share a guest post from a homeschool graduate who appears on TV, speaks at TEDx and is hosting a conference by teens for teen entrepreneurs. Meet our friend and Teens Got Cents blogger, Eva Baker!
A homeschool assignment has turned into a full time business and completely changed my life.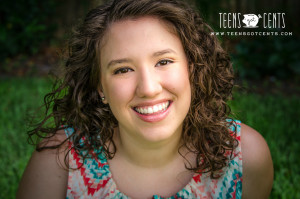 I'm Eva. When I was sixteen I founded TeensGotCents as a project for school. My mom required both my brother and I to do some sort of meaningful project. Yay! (said no teen ever…) I thought about it for a couple of months and finally decided to start a website covering personal finance topics for teens.
Strange choice? Let me explain.
My mom was trying to get her finances in order and decided to read a book by Dave Ramsey called The Total Money Makeover. Unfortunately for me the library only had it as an audio book so guess who got to listen to it in the car? Yep. That would be me. But as I listened I was really intrigued by what Dave had to say and the baby steps didn't seem all that hard.
When I did a little research I found lots of help out there for adults drowning in credit and student loan debt but not much for teens. Certainly nothing for teens by another teen!
What started as a project for my junior and senior year of high school turned into a job after two years of hard work! I have learned so much by running my own business. There's no reason to wait until you are an adult to get started on your real life. Here are some of the advantages of starting a business as a teen:
Communication Skills: You should have heard me on the phone the first time I had to call someone and ask them for an interview for TeensGotCents. I was so nervous and had to leave a message. On that first message I asked them to call me back and then forgot to leave my number! So embarrassing! I ended up calling again and leaving a second message and thankfully the person took pity on me and did call back. After three years of interviews making a phone call is completely natural now.
Time Management: Working on your own business will quickly help you learn how to manage your time a little more effectively. When you are juggling school work, chores and meeting your business goals it will really get you moving if you want to be successful. I always had to do school and other things first before I could work on the site and that really helped me to focus and get things done well AND quickly.
Money Management: Nothing like finding out you are selling a product for less than what it costs you to make it to help you get a little better at math! Seriously though. Figuring out how much to charge for something versus how much you need to make versus how much someone is willing to pay is quite the education.
Customer Service/Social Media Manager/HR Department/Marketing/ETC: You get to be all of these things when you run your own business. Whether you sell a product or offer a service like lawn mowing or babysitting, being in charge of all these things will be a huge help as you make decisions for your future. It will also help you know what you love to do and what you don't. It's hard to choose a career (should you go the traditional job route) if you have no idea what you like to do!
One of the things missing for teen entrepreneurs has been networking opportunities. So many of us teens have our own businesses but we tend to be isolated from each other and even our peers who may not have any interest in being an entrepreneur.
I have had the privilege to attend a professional conference for personal finance bloggers called FinCon for the past three years. Honestly, I have to say FinCon is the main reason my project became a business. This incredible community of people helping and encouraging each other has been an inspiration.
For the past eight months I have been dreaming about having a conference just for teen entrepreneurs that would have the same impact on attendees that being at FinCon has had in my life. I'm so happy to say that The Teenpreneur Conference happened! Teens (and their parents) from all over the country are gathering together in Jacksonville, Florida.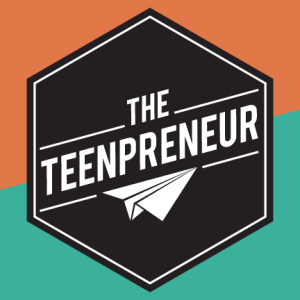 Teenpreneur had a great run but does not have any additional conferences scheduled at this time. Check out Eva's site for tips & articles to encourage you as you explore budgeting and entrepreneurship as a teen!